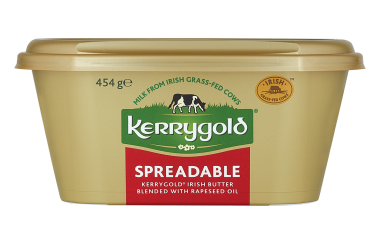 Butter
Kerrygold® Spreadable 454g
Ideal for use in
Your favourite sandwich, toastie or lunchbox creations! Busy families can instantly spread and savour the delicious taste of Kerrygold® Spreadable on everything from sliced bread and bagels to grilled ciabatta and baguette. Enjoy!
Kerrygold® Spreadable offers you a rich, buttery taste with the added convenience of being spreadable straight from the fridge. We take the finest Kerrygold® Irish Creamery Butter and blend it carefully with natural rapeseed oil to bring you this exceptionally tasty product.
Available in stores nationwide from April 2021.