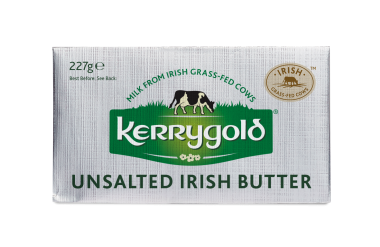 Butter
Kerrygold® Unsalted Irish Butter 227g
Ideal for use in
Kerrygold® Unsalted Irish Butter is particularly well suited for baking. Its distinctly delicate flavour makes it the ideal ingredient for your favourite cookies, brownies, pastries or cakes. Because it is free from salt, this butter is also ideal for those who love the delicious taste of Kerrygold® but are keen to keep an eye on their intake of sodium.
Kerrygold® Unsalted Irish Butter has a rich and creamy texture with a distinctly delicate, lactic flavour. Like all Kerrygold® Butter products, our Unsalted Butter is made from the milk of Irish grass-fed cows and expertly churned to produce this premium quality product.
Available in stores nationwide from April 2021.