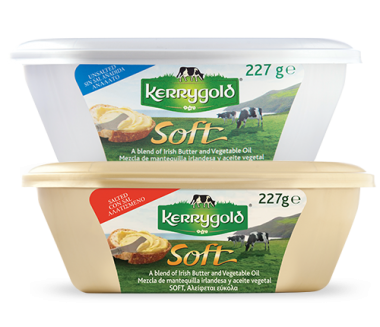 Butter
Kerrygold Soft Butter
Ideal for use in
Spread effortlessly on crusty bread or Irish soda bread, or melt over cooked vegetables.
Luxurious but convenient, Kerrygold Soft is made from a blend of Kerrygold Pure Irish butter and Rapeseed oil. Spread on hot toast and watch it melt. Plain and simple. Simply divine. Your mouth is watering, isn't it? Go on, have a slice.Available both salted and unsalted, depending on your mood.
Available sizes: 227g and 250g tubs.